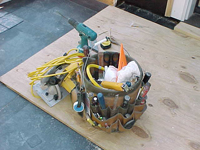 Little Things Mean a Lot
Have you ever worked with a company that did a great job on that major renovation project but just wouldn't come back to fix some small things you needed later. Then you must not be a TSC client yet. We take the "whole house' approach. Several years ago we acquired the handyman service, DOMO, and have now made that an integral part of The Sullivan Company, Inc. Whether you need a door planed down, a room painted, or the deck powerwashed, our dedicated staff will take care of any small items promptly and professionally.

Many of our clients choose to have us structure a yearly maintenance plan for their home. This takes all of the headache out of the things like gutter cleaning, storm and screen changes, moving patio furniture and so on off their minds. The plans are reasonably priced and usually pay for themselves in a short period of time. The reason for this is that we also inspect the house each year and report any repairs that may be needed to you along with an estimate. Catching repairs early is always more cost effective than deferred maintenance.